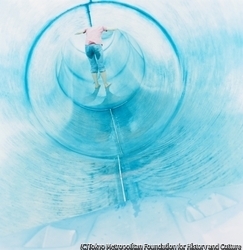 This series, KAWAUCHI Rinko's (b. 1972) debut work, captures all kinds of changes that occurred in the artist's personal realm. The title, Utatane, refers to a state between waking and sleep, consciousness and unconsciousness, summing up her artistic world. Her work is distinguished by glistening light, bright transparent colors, and juxtapositions of multiple images, which unfold in expansive poetic scenes. KAWAUCHI's style of vividly excising a scene from her daily life in a square format has earned her many followers.
Collection of

Tokyo Photographic Art Museum

Title

Untitled

Artist Name

KAWAUCHI Rinko

Year

2001

Material / Technique

Chromogenic print

Dimensions

1016x1016mm

Accession number

10107223

Tokyo Photographic Art Museum "Search the Collection"
作者について
Wikipedia
Rinko Kawauchi HonFRPS (川内 倫子, Kawauchi Rinko, born 1972) is a Japanese photographer. Her work is characterized by a serene, poetic style, depicting the ordinary moments in life.
Identifiers
APJ ID

A1266

VIAF ID

15056497

AKL ID

42287034

NDL ID

00862327

Wikidata ID

Q717766
Other items of Tokyo Photographic Art Museum (30833)