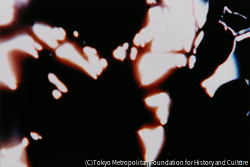 In this series of long exposure photographs, maintaining a fixed relationship between the position of the sun, the sakura (cherry tree and cherry blossoms) and the camera throughout the course of a day was the framework; the photographs were shot by moving the camera in step with the motion of the sun. YAMAZAKI's concept was not to create a film version of conventional images of sakura; rather, he imagined "Freeing the cherry tree from the earth and showing the light of the vast sky with it." He sought the image of "sakura as the essential principle of the camera straightforwardly captures it." In Sakura (1990), he used a telescopic lens consisting of four tele-conversion lenses and a zoom lens to photograph sakura with the sun in the background. This series, which began with his 1989 video, has developed further, with Sakura EQUIVALENT (1993) and Sakura EQUIVALENT ON COLOR (1995).
Collection of

Tokyo Photographic Art Museum

Series title

CHERRY BLOSSOM - EQUIVALENT ON COLOR

Title

*

Artist Name

YAMAZAKI Hiroshi

Year

1995

Material / Technique

Chromogenic print

Dimensions

265x508mm

Accession number

10100957

Tokyo Photographic Art Museum "Search the Collection"
作者について
Wikipedia
Hiroshi Yamazaki (Japanese: 山崎 博, Hepburn: Yamazaki Hiroshi, 21 September 1946 – 5 June 2017) was a Japanese photographer whose works concentrate on the sun and the sea.Born in Nagano on 21 September 1946, Yamazaki studied at Nihon University but dropped out in 1968, starting out as a freelance cameraman a year later, working in both still photography and 16mm film.Yamazaki is best known for two series. "Heliography" uses long exposures to show the path of the sun near the horizon. "Horizon" (Suiheisen saishū) is a study of sea horizons.Yamazaki won the 26th Ina Nobuo Award in 2001.Yamazaki became a full professor at Tohoku University of Art and Design in 1993, and also taught at Musashino Art University and TPO Photo School.He died on 5 June 2017 of cancer of the gums.
Identifiers
APJ ID

A2025

VIAF ID

19572283

AKL ID

1761204c-07b3-4d4a-84c5-0516dea69416

NDL ID

00136645

Wikidata ID

Q5771121
Other items of Tokyo Photographic Art Museum (30558)