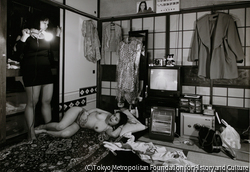 Living Room, Tokyo, is a series recording the residences of people who have moved to Tokyo. This series highlights the richly international side of Tokyo that unfolds within ordinary apartment buildings. When SETO Masato(1953-)visited the apartment in Tokyo where a woman from Thailand was living, he found that while the place was perfectly ordinary outside, once he stepped inside, it was a very Thai-style living space. He became greatly interested in these spaces, divided by mere walls, highly individual living spaces that could not be even imagined from outside. SETO shot all these works with an 8 by 10 inch large format camera. Since he was photographing inside, the exposure times were quite long, several seconds, during which his models had to hold still and hold their breath. As a result, they look somewhat like expressionless, generic mannequins placed in the room.
Collection of

Tokyo Photographic Art Museum

Series title

Living Room Tokyo 1989-1994

Title

Tildee(23) and her friend from Bangkok

Original title

ティルディーさん(23) 日本名かおりと友人、バンコク出身

Artist Name

SETO Masato

Year

1993

Material / Technique

Gelatine silver print

Dimensions

314x504mm

Accession number

10106905

Tokyo Photographic Art Museum "Search the Collection"
作者について
Wikipedia
Masato Seto (瀬戸正人, Seto Masato) is a Japanese Thai photographer.
Identifiers
APJ ID

A1531

VIAF ID

59329581

AKL ID

54962d5c-0512-4659-bb22-4b34a0195055

NDL ID

00184339

Wikidata ID

Q5571115
Other items of Tokyo Photographic Art Museum (30756)